---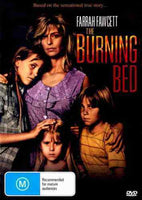 The Burning Bed
M | 1h 35min | Crime, Drama | 1984
An abused battered wife has had enough of husband beating up on her. Everywhere she turns for help, there's not much anyone will do. After he rapes her one night, she sets the bed on fire with him in it asleep.

Director: Robert Greenwald

Writers: Rose Leiman Goldemberg (teleplay), Faith McNulty (book)

Stars: Farrah Fawcett, Paul Le Mat, Richard Masur
Movies with low demand and/or out of print are manufactured-to-order using high quality recordable DVDs.   Please read FAQs if unsure, or send a query.
Satisfaction Guarantee – if not satisfied with any aspect of your purchase then we will explore all options to rectify the issue
Combined shipping discount on overseas orders when purchasing with other titles