---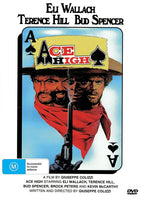 Ace High

PG | 2h 2min | Comedy, Western | 1969

A recently-escaped bandit forms an unlikely alliance with two bounty hunters and an acrobat to get revenge against the people who framed him.

Director: Giuseppe Colizzi

Writer: Giuseppe Colizzi (screenplay)

Stars: Terence Hill, Bud Spencer, Eli Wallach


Movies with low demand and/or out of print are manufactured-to-order using high quality recordable DVDs.   Please read FAQs if unsure, or send a query.
Satisfaction Guarantee – if not satisfied with any aspect of your purchase then we will explore all options to rectify the issue
Combined shipping discount on overseas orders when purchasing with other titles