---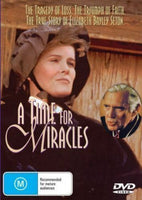 A Time for Miracles
1h 37min | Biography, Drama
A true story about Elizabeth Bayley Seton, the first American to ever be canonized as a saint by the Pope. She took up Catholicism after the death of her rich husband, fought bigotry, and opened free Catholic schools and orphanages.
Director: Michael O'Herlihy
Writer: Henry Denker
Stars: Kate Mulgrew, Jean-Pierre Aumont, Rossano Brazzi
Movies with low demand and/or out of print are manufactured-to-order using high quality recordable DVDs. Please read FAQs if unsure, or send a query.
Satisfaction Guarantee – if not satisfied with any aspect of your purchase then we will explore all options to rectify the issue
Combined shipping discount on overseas orders when purchasing with other titles