---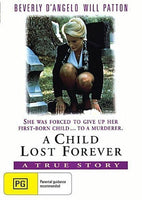 A Child Lost Forever: The Jerry Sherwood Story

1h 36min | Drama | 1992

A Child Lost Forever: The Jerry Sherwood Story Poster
In the 1970's, a teenager staying in an unwed mothers' institution is forced to give up her baby. Eighteen years later, she discovers that her child is dead, and that he was possibly murdered by his religiously -strict adoptive mom.

Director: Claudia Weill

Writers: Stephanie Liss, Judith Parker

Stars: Beverly D'Angelo, Dana Ivey, Michael McGradyAll Region DVD – Region 0 – plays on any DVD player in any region i.e. plays worldwide
Movies with low demand and/or out of print are manufactured-to-order using high quality recordable DVDs.   Please read FAQs if unsure, or send a query.
Satisfaction Guarantee – if not satisfied with any aspect of your purchase then we will explore all options to rectify the issue
Combined shipping discount on overseas orders when purchasing with other titles